Coaches
Girls Varsity: Sally Morris
Sally Morris has coached crew for nearly thirty years. Since she arrived at Exeter in 2006, the girls have had tremendous success under her guidance, with Exeter's first eight winning gold at the New England Interscholastic Rowing Association (NEIRA) Championship Regatta every year but one, and the second eight taking gold for the last four and silver for the previous two years. Exeter's top two eights went undefeated in the 2011 season. The girls first eight has been moving towards top in the Youth Nationals, with finishes between fifth and second thus far. Her rowers nominated her to win USRowing's 1st Annual Fan's Choice Award for Best Junior Coach 2011.
A native of Northborough, Massachusetts, Morris was a four year varsity letter-winner with the crew program at Trinity College in Connecticut where she graduated in 1985. As a teaching intern coming directly out of college, Morris joined the crew coaching staff at Brooks, in addition to coaching field hockey and basketball, where she would find her calling as a teacher and a coach for the next twenty years. Under her guidance, Brooks' fours enjoyed exceptional success capturing four NEIRA Regatta Championships in 2000, 2001, 2004, and 2005 as well as two USRowing Youth National Championships in 2004 and 2005. Along the way, Morris has seen numerous rowers move on to successful college programs as well as to compete at the world class and Olympic levels. Department Chair and instructor in Classical Languages, Morris earned a Masters in Classics from Tufts University in 1990. In addition to co-leading the biannual Rome Study Tour for classics students, she is an active member of numerous classical societies.
Boys Varsity: Tyler Caldwell
A Harvard University Lightweight rower for four years (two of which the team earned the Jope Cup at Eastern Sprints), Tyler earned a gold medal at the International Famous Universities Regattas in both Beijing and Chengdu, China his junior year. In 2011, his senior year, his boat finished first at the Eastern Sprints Championship. Before college, Tyler rowed for four years at St. Andrew's School in Delaware, where he was captain of the soccer, swimming and crew teams and All-State in both soccer and swimming. In 2005, 2006, and 2007, his 200-yard freestyle team won a gold medal at the Delaware State Swimming Championships. In high school, he was also involved in the performing arts as a member of the orchestra, jazz band and dance team, and Tyler continued to dance in college as a part of both community service and dance teams, Expressions Dance Club and City Step. Tyler is enjoying his first year of teaching English, working in the dorm, and coaching crew at PEA.
Girls Junior Varsity: Becky Moore
Becky Moore learned to row at Radcliffe College, where she earned four varsity letters and co-captained the heavyweight squad her senior year. While teaching English, she coached the girls varsity at Choate-Rosemary Hall from 1980-1984, including a NEIRA Championship title in 1983. She has coached the girls junior varsity at Exeter since 1990, and the girls third boat has had tremendous success at Interschols under her guidance.
Boys Junior Varsity: Greg Spanier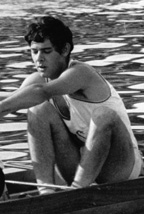 Greg Spanier began his rowing career at Balliol College, Oxford, where he was captain of boats (later  a trustee of the Boat Club) and rowed for the college and university at Henley and elsewhere, rowed in the Senior Trial Eights race for Boat Race selection and won the University Fours.  He coached at St. Edward's School, where some of his crews won age-group National Schools Regatta and National Championship Finals, his Varsity Eight reached a Henley semi-final and he coached the England straight four in the Home International Regatta; he also continued to do some competitive rowing.  He attended ARA courses, earning bronze and silver level coaching awards, and later coached at Winchester College.  After some time away from the river, Greg coached lower boats at Brooks; his crews won gold medals at NEIRA on several occasions.  Greg is now in his fifth season at Exeter, having recently worked with the novice girls.  The photo shows Greg in the Balliol Four that reached the semi-final of the Visitors' Challenge Cup at Henley Royal Regatta.
Girls Novice: Alison Hobbie, Sarah Nute
Alison Hobbie learned to row at Wellesley College where she rowed in a strong intramural program for four years.  She has been coaching the Exeter girls junior varsity B (novice) team since 2006. In addition to teaching the technical skills and fitness necessary for success in this interscholastic spring sport to girls with little or no experience in crew, Ms. Hobbie is committed to developing a team spirit among her girls and to the promotion of their personal development as athletes.  Many of her girls have gone on to row at the varsity level and beyond, to college programs and even the US Junior National Team.  A chemistry teacher, Ms. Hobbie is the Hayes Instructor of Science at Exeter.
Boys Novice: Townley Chisholm, Kim Therriault
Townley Chisholm learned to row at Pembroke College, Oxford, rowing for the Pembroke College 1st VIII in the Torpids and Eights Week bump races. He has coached beginning rowers at Brooks school from 1992-4 and at Phillips Exeter from 1994 to the present. Chisholm is an instructor in biology.
Boatman and Rigger: Keith Hereford
Bio to be added…